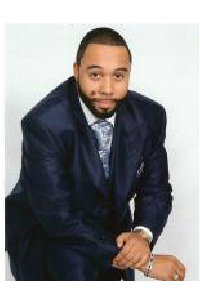 Reverend Quientrell L. Burrell, Jr., M. Div.
Rev. Quientrell L. Burrell, Jr. is the eldest of two sons born to Mrs. Brenda Burrell and the late Quientrell L. Burrell, Sr. though a native North Carolinian; he was reared in Hempstead, N.Y., and was a member of Antioch Baptist Church under the pastorate of his grandfather the late Dr. James L.L. Burrell. During his childhood at Antioch, God blessed him with the gift of music and the ability to play the piano at 5 years old and later became Minister of Music. He served faithfully in that ministry and led the music ministry in their first live recording in October of 2000.
Rev. Burrell accepted the call to the gospel ministry at twenty years of age and was licensed by the Antioch Baptist Church under the leadership of Dr. Phillip E. Elliott, Pastor. He is a graduate of Long Island University with a Bachelor of Fine Arts in Communications and Broadcasting. He is also a 2007 Graduate of the Shaw University Divinity School, attaining the Masters of Divinity.
In November of 2001, a call was extended from the First Baptist Church of Weldon, NC to Pastor Burrell to serve as its youngest Pastor in the One Hundred and Fifty One year history of the church. During the past fifteen years, the church has seen tremendous growth, spiritually, numerically and financially. Property has been purchased, ministries have been added and the First Community Development Corp. has been established, to which Pastor Burrell serves as CEO/ED.
Pastor Burrell is affiliated with numerous civic organizations and associations. He maintains current membership in the National Baptist Conventions USA, INC. where he is also a member of the Music Department. He is a member of the Evangelism COmmittee and Chairman of Late Night for the General Baptist State Conventions. Utilizing his musical talents he serves as convention organist of the General Baptist State Convention. He is a former moderator for the Neuse River Missionary Baptist Association. He is an educator, having taught classes on Word Religion and the New Testament as Adjunct Professor at Halifax Community College, Weldon, NC. He is past-President and Head of Christian Education for the Halifax County and Vicinity Interfaith Ministerial Alliance, An organzation created to give area clergy a forum and vehicle to adress the many major issues facing the communicies at-large.
In April 2012, Pastor Burrell was inducted into the Martin Luther King, Jr. Board of Preachers of Morehouse College. This appointment is a great honor to him and he intends to honor that appointment with full and active participation and dedication.
Rev. Burrell has fervently worked on his Doctorate at Chicago Theological Seminary, Chicago, IL and received his Doctorate on May 18th 2018.
He is a gifted preacher, an accomplished musician/singer/songwriter and an up and coming author. He lives by the fact that if God be for us, who can be against us?
And, no weapon that is formed against you shall prosper.